Viswanathan Anand
Name: Viswanathan Anand (GM)
Born: December 11, 1969, Mayiladuthurai, Tamil Nadu
Nickname: Vishy, Madras Tiger, Lightning Kid
FIDE Rating: 2779
India Rank: 1
"I always considered him to be a colossal talent, one of the greatest in the whole history of chess," says Vladimir Kramnik, one of Anand's greatest rivals for over two decades. The chess world believes Anand to be highly gifted, and in terms of his character, a great gift, to the chess world.
Vishy Anand is perhaps the most complete player in terms of his playing style and a career spanning over three decades. In his early years, Anand was known to be an aggressive beast blessed with a tactical wile. However, over the years at the top his game is now a reflection of a complete mastery in all departments of the game. Vishy has been a five-time World Chess Champion and has won these titles across varying formats: knockout, tournament and match. Not the least, he has won dozens of super-tournaments, under a diverse range of time-controls, across the world, all his life.
Although he has suffered a few inevitable slumps in his grand career, Vishy has always found a way to roar back to business. Of the numerous instances, the most memorable until the date was his astonishing comeback at the Candidates Finals, 2014, which compelled the harshest of his critics to give him a standing ovation. The finest of his performances have come when it mattered most – during the World Championship Matches of the previous decade – when the world witnessed the Madras Tiger at his peak.
Vishy's mother, the Late Susheela Vishwanathan, taught him the rules of the game. A year later, he joined the Tal Chess Club of Madras, where he honed his skills to become the king of his castle. After winning a string of National titles, Anand announced his arrival in the world chess scene by winning the World Junior title in 1987. In 1988, Vishy became India's first grandmaster. After a string of candidates matches, Anand challenged Garry Kasparov to the PCA World title but failed to win it. The period beginning at the aftermath of this loss in 1995 is widely known as the coming of the Anand era. Vishy won the FIDE World Championships at Tehran/Delhi in 2000 (knockout format), New Mexico in 2007 (tournament format), Bonn in 2008 (match against Vladimir Kramnik), Sofia in 2010 (match against Veselin Topalov) and Moscow in 2012 (match against Boris Gelfand). Anand has failed to win the World Championship in his previous two attempts in 2013 and 2014, losing both to Magnus Carlsen, once as an incumbent and another as the challenger. The last world title Anand won was in 2017, when he won World Rapid Championship in Riyadh, Saudi Arabia. Anand also won Tal Memorial and Tata Steel Chess India Blitz in 2018.
Anand has won six Chess Oscars in the course of his illustrious career. He was the first sportsperson to be bestowed with the Rajiv Gandhi Khel Ratna, India's highest sporting honour. He has also been awarded the Padma Bhushan and Padma Vibhushan, two of the highest civilian awards by the Government of India. At the ripe age of forty-five, there is no stopping Anand, who still holds his own at the top of the chess world.
Pentala Harikrishna
Name: Pentala Harikrishna (GM)
Born: May 10, 1986, Guntur, Andhra Pradesh
Nickname: Hari
FIDE Rating: 2730
India Rank: 2
Harikrishna's rise to the top-20 has not been as meteoric as some of his peers have shown, but what do they say about slow and steady winning the race?
An epitome of consistency, Hari first made it into the World Top-100 in 2004 and has remained in the distinguished circuit ever since. He became the third Indian after Anand and Sasikiran to cross the 2700-mark. Hari has maintained his rating over 2700 since September 2013. Currently, he is steadily progressing amongst the ranks, holding his own even against the absolute top players of the world.
Harikrishna shot into worldwide fame with his rock-solid performance at the 2013 TATA Steel Wijk aan Zee super-tournament with a score of 6.5/13, finishing in the top-half of a packed field of extremely strong players.
In his early years, Harikrishna was a prolific winner of the national youth titles. He has won them all: Under-08, Under-10, Under-14, Under-15 and Under-18 titles. He won the World Under-10 Championship in 1996. In the year 2000, Hari was awarded the International Master title. In 2001, at the age of fifteen, he became India's youngest grandmaster at the time. Nevertheless, his breakthrough came in the year 2004 in India, when he won the World Junior Championship. In 2006, he even won the 960 World Junior Championship, beating Arkadij Naiditsch in finals.
Harikrishna is employed with the Bharat Petroleum Corporation Ltd. since 2010. Over the years, Hari has scored an impressive array of victories in open and closed and team tournaments around the world. He married WFM Nadezda Stojanovic in March 2018 and currently resides in Prague, Czech Republic.
Vidit Gujrathi
Name: Vidit Gujrathi (GM)
Born: October 24, 1994, Nashik, Maharashtra
FIDE Rating: 2711
India Rank: 3
Vidit is one of the best positional players in the country. His encyclopedic knowledge of the game and his objective outlook helps him to take rational decisions and keep his loss rate to a minimum in any tournament that he plays.
One of the biggest successes of his career was finishing first at the World Youth under-14 in Vietnam in 2008. He has also won the bronze medal at the strong World Junior event in 2013. Vidit propelled his career into the elite level when he won Tata Steel Challengers in 2018. He finished at joint first place in Tepe Sigeman and Co. in 2018.
He is also the brand ambassador for blind chess in India. He has authored two ChessBase DVDs based on Caro-Kann opening.
Baskaran Adhiban
Name: Baskaran Adhiban (GM)
Born: August 15, 1992, Mayiladuthurai, Tamil Nadu
Nickname: Adhi, Ban, The Beast
FIDE Rating: 2683
India Rank: 4
Living in the same town as Vishy Anand - Chennai, Adhiban showed a prodigious feel for the game from a very young age. Add to that his spirit to never give up, and you have a champion material.
The year 2008 was a memorable year for the Tamil Nadu lad. After being around the block for quite a while, Adhiban made a bunch of major breakthroughs that took his career to the next level. He won the World Youth Championship in the Under-16 category (2009, Antalya, Turkey) and eventually became an International Master. Nevertheless, the biggest moment came at the National 'B' Championship that year, which he managed to win, leaving many people surprised at the sudden spurt in his growth. In 2009, he went one up and won the National Premier Championship.
In a space of two years, Adhiban went from a talented young kid to be known as the Indian Champion. He crowned his fabulous run in 2010 when he completed the requirements to become a grandmaster. He didn't stop at just that. Over the past five years, after he became a grandmaster, Adhiban has been steadily making progress, increasing his rating. He has had a spate of good performances in open, invitational and league tournaments across Europe. He won Biel Masters in 2014. He was the key member of the 2014 Tromso Olympiad Bronze medal winning team. He played at the fourth board and scored 7.0/10 that contributed heavily to India's cause. The consistent performances he has delivered took his rating above the 2650 mark.
In 2016, Adhiban started the year by winning Tata Steel Challengers and qualified for the following year's Masters. In Tata Steel Masters 2017, Adhiban finished 3rd despite starting as lowest rated player. Adhiban won Reykjavik Open in 2018. In World Teams 2019, Adhiban won an individual Gold medal on Board no.1.
The Indian Oil in Chennai employs Baskaran Adhiban.
Krishnan Sasikiran
Name: Krishnan Sasikian (GM)
Born: January 7th, 1981, Chennai, Tamil Nadu
Nickname: Sasi, The Wall, Mr Olympiad
FIDE Rating: 2678
India Rank: 5
He is the wall of Indian chess. Extremely solid and reliable. Sasikiran has won many laurels for the country in the past. Most notably he is the second Indian after Vishy Anand to have crossed 2700 in the Elo rating list.
In 2006, he tied for first place at the Aeroflot Open in Moscow with Baadur Jobava, Victor Bologan and Shakhriyar Mamedyarov, finishing third on tiebreak score. Later in the same year, Sasikiran won a gold medal in the 2006 Asian Games' team event. Tamil Nadu government presented a cheque of Rs 20 Lacs as appreciation for his success. He was also bestowed with the Arjuna Award in 2002. In the January 2007 FIDE rating list, Sasikiran was ranked number 21 in the world with an Elo rating of 2700.
In December 2008, he won City of Pamplona international chess tournament, a category 16 event with average Elo above 2640, by one-point margin with a rating performance of 2795. In 2009, he tied for 2nd-3rd with Étienne Bacrot in Antwerp.
In May 2011, Sasikiran won the Asian Blitz Chess Championship in Mashhad on tiebreak over Wesley So and Bu Xiangzhi, after all three players finished on 7/9 points. In October of the same year, he placed clear first in the open section of the 15th Corsican Circuit. He reached semi-final stage of the Corsica Masters knockout rapid tournament losing to eventual winner Anand.
At the 2014 Chess Olympiad in Tromsø he scored 7.5/10 points on board three to help the Indian team to win the bronze medal. Sasikiran also won the individual silver medal on board three.
Parimarjan Negi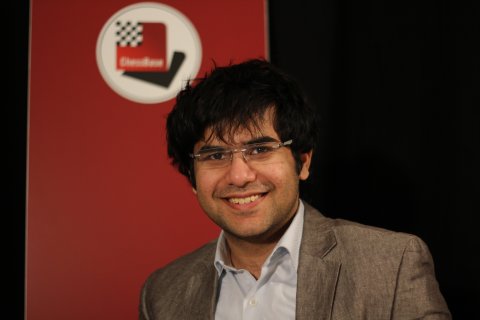 Name: Parimarjan Negi (GM)
Born: February 09, 1993, Uttarakhand
Nickname: Batu
FIDE Rating: 2639
India Rank: 6
In chess history, Parimarjan Negi was once the second youngest player ever to become a grandmaster and the youngest in India. He achieved this feat in the year 2005-06 when, within a space of a year, Negi became an International Master and a grandmaster, at the age of 13 years and 142 days, second only to Sergey Karjakin, but beating Magnus Carlsen to the record.
Since then, it has been a steady climb up the rating charts for Parimarjan Negi. He has claimed the first place in a number of strong tournaments in Europe. Most notable is his victory at the Politiken Cup 2013 when Negi scored an impressive 9.0/10 to win the tournament by a point's margin.
Negi played on board one for India in the Chess Olympiad (2014) played in Tromsø, and led his team to the upset of the Olympiad to win a bronze medal. He was a vital cog in India's wheels in the event, taking on the best of the opposition on the first board. He pulled off extremely important results, such as the crucial draw with Levon Aronian to help India hold Armenia, the win over players like Bologan and Kasimdzhanov, with the win over the latter practically winning India the medal.
Currently, Negi is studying at Massachusetss Institute of Technology after graduating from Stanford University. He has authored a DVD for ChessBase on Scotch and also few hugely popular opening repertoire books for Quality Chess.
S.P. Sethuraman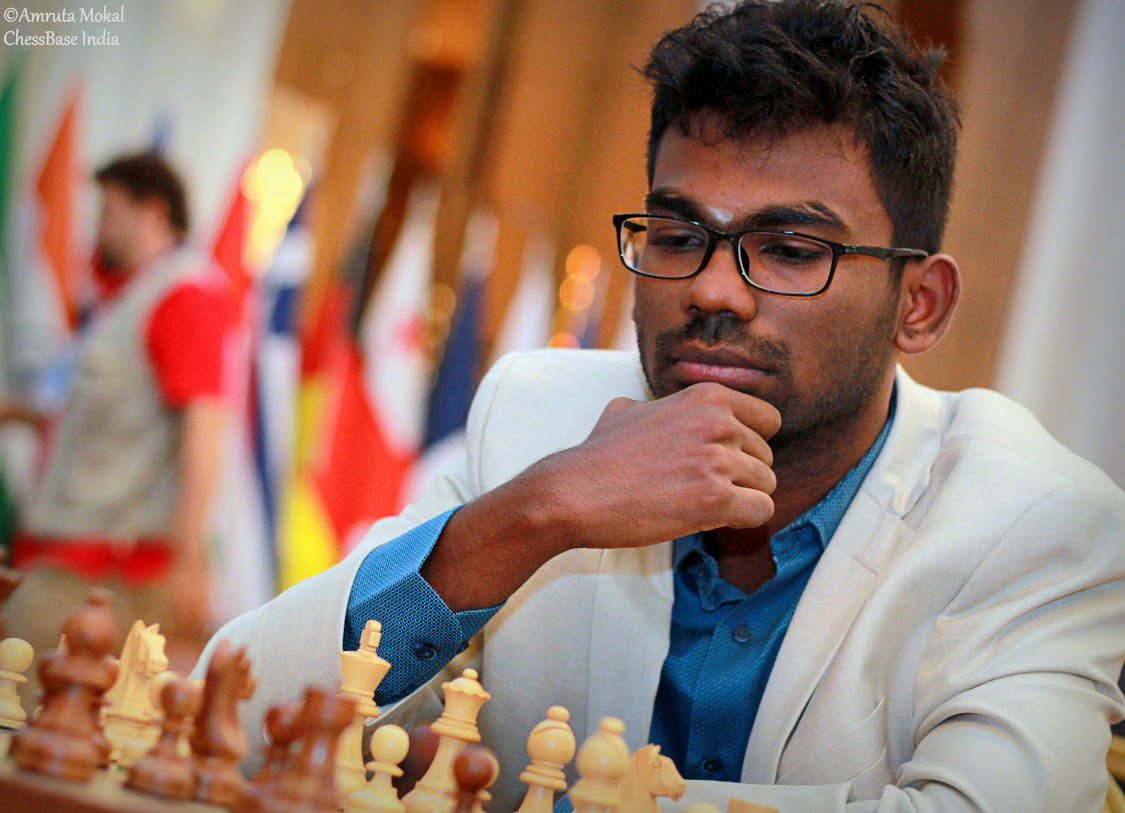 Name: S.P. Sethuraman (GM)
Born: February 25, 1993, Chennai, Tamil Nadu
Nickname: Sethu
FIDE Rating: 2637
India Rank: 7
The National Premier Champion in 2014 and former World U-16 champion, Sethu's growth has almost mirrored that of his colleague GM B. Adhiban. He became an International Master in 2007 and grandmaster in 2011.
Sethu hails from a chess family with his father being a former national level player and his mother being a state level player. Even his brother is a rated player. Sethuraman gives major credits to his family, for the reason behind his chess development.
Sethu played on the second board for the Indian team at the 2014 Tromso Olympiad and scored 7.5/10, which was instrumental in helping the team in its eventual finish at the podium, with a bronze medal. He won Asian Continental championship in 2016.
After achieving his dream of becoming a grandmaster, Sethu wanted to break into the 2650+ club. Now that he has achieved his aim, it will be interesting to see where he goes next.
Surya Sekhar Ganguly
Name: Surya Sekhar Ganguly (GM)
Born: February 24,
1983, Kolkata, West Bengal
Nickname: Gangs
FIDE Rating: 2633
India Rank: 8
Surya Sekhar Ganguly is truly a gem for the Indian chess. He became the 8th Grandmaster of India when he won his GM title at the 35th Olympiad.
He won the Asian Continental in 2009, silver in 2015 and bronze in 2001. He has been the Indian champion for consecutive six years from 2003-2008. He has also won the National 'B' and National Cities in 1999, National Junior in 2000, National Rapid in 2005, National Team in 2001, 2002, 2007, 2018 and 2019. He won an individual gold in Asian Team 2005 and the team also won Gold in the same year and 2009. He was the part of silver medal winning performance in 2003 and 2008. He won two Gold medals and a Silver medal in Asian Indoor Games 2007. In Asian Zonal, Surya won Silver in 2001, Gold in 2003 and 2007.
He helped Anand become the World Champion on three occasions: 2008 against Kramnik, 2010 against Topalov and 2012 against Gelfand. He is also the winner of the Arjuna Award and has won many strong International tournaments like O2C Doeberl Cup 2017, Edmonton International 2016 (joint first), Bangkok Chess Club Open 2016, Kolkata International Open 2015, Thai Open 2015 (joint first) Fujairah Masters 2012, Indonesian Open 2011 (joint first), Parsvanath Open 2009, Sydney Open 2008, ONGC International 2006, Bangladesh International 2005, and the list is endless.
He has also been a member of the winning team Solvay in the Spanish League 2015 along with his Indian teammates Pentala Harikrishna and Baskaran Adhiban.
In 2018 Asian Continental Championship, Surya finished 4th and qualified for World Cup 2019. He also another individual Gold medal in World Teams 2019, 9 years after winning his first individual Gold at the same event.
Koneru Humpy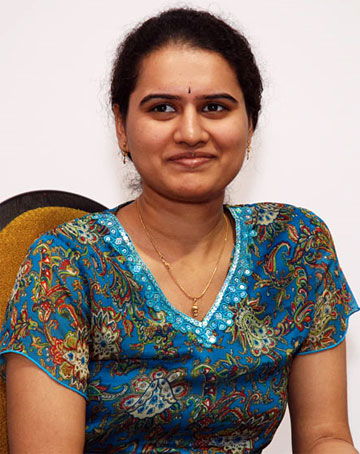 Name: Koneru Humpy (GM)
Born: March 31, 1987, Gudivada, Andhra Pradesh
FIDE Rating: 2549
India Rank: 1
Koneru Humpy is the undisputed queen of Indian chess. Such is her dominance that in 2003, aged 16, she won the National Women's A Championship with a phenomenal score of 16/17. A year prior to this feat, she had become a grandmaster at a tender age of 15 years, eclipsing the record held by Judit Polgar by three months. Behind Hou Yifan, she is the second youngest female grandmaster in chess history.
Humpy hails from a chess loving family, with both her father and younger sister having a rating over 2200. She was originally named 'Hampi' derived from the word 'champion'. Her father Koneru Ashok initiated her into the game when she was five-years-old. Since then, she has won every imaginable category world championship that is there to win, right from World U-8 to World Junior Girls title (U-20). In the 2004 World Junior Championship, she participated in the Open section, and stunningly finished equal fifth.
Despite dominating the women's chess scene so effectively, her dream of becoming a women's world champion remains unfulfilled. In the years 2004, 2006 and 2008, young Humpy was always a rating favourite, yet, somehow ended up short of winning the title. In the year 2008, she advanced to the semi-finals, only to be knocked out by Hou Yifan, her archrival to this date. After FIDE introduced the Grand Prix system, Humpy has been a part of all the three Grand Prix and has finished second to Hou Yifan in each of them. At the end of the first series of Grand Prix in 2011, since Hou was already the World Champion, Humpy was able to challenge her for the World title match (2011), which she lost 5.5-2.5.
Humpy made her return to competitive chess in Batumi Olympiad 2018 after two-year long hiatus due to her motherhood.
One would believe that the Indian Queen has not yet reached her peak, and would make amends and make her dream come true by becoming the women's World Champion.
Dronavalli Harika
Name: Dronavalli Harika (GM)
Born: January 12, 1991, Guntur, Andhra Pradesh
FIDE Rating: 2483
India Rank: 2
Harika Dronavalli is the third 'H' of Indian chess after Harikrishna and Humpy. A great fan of Judit Polgar, Harika hopes to move ahead in her career as the Hungarian genius did. Earlier this year, the Times of India described her as the 'new poster girl of Indian chess'.
Her achievements include conquering the world titles of World Youth Champion in 2006 (Girls Under-18) and U-14 Girls Champion in 2004. In 2007, Harika became the Women's Commonwealth Chess Champion. She added another feather to her cap, by becoming World Junior Girls Champion in 2008. In 2011, Harika won her 3rd GM norm when she finished second in the 1st Hangzhou Women's GM Tournament (2011) and became India's second female player to achieve full-fledged grandmaster.
She competed in the FIDE Women's World Championship Knockouts in 2012 and 2015 and on both the occasions lost in the semi-finals. She won Bronze medal in Women's World Championship 2017.
She was honored with Arjuna Award in 2007-08 and she was recently conferred to Padma Shri Award in 2019 for her contributions in the sport. Her goal to become the Women's World Champion is still undeterred.
Soumya Swaminathan
Name: Soumya Swaminathan (WGM)
Born: March 21, 1989, Pune, Maharashtra
FIDE Rating: 2401
India Rank: 3
Soumya got into chess as she felt that her brother was not teaching him properly because she was unable to beat him. Within a month after joining chess classes she became the best in Aurangabad district.
She became National Junior girls champion in 2005, 2006 and 2008. Her biggest feat came in the form of World Junior title in 2009. Soumya won Best Young Achiever Female Award in Sahara India Sports Awards 2010. National Women's Premier Champion in 2011, Commonwealth Champion in 2012, National Challengers in 2013, individual Gold and Team Bronze in Asian Nations Cup 2016, tied for the first place in Moscow Open 2016.
Soumya played in Women's World Championship in 2012 and 2015, Women's World Team Championship in 2011, 2013, 2015 and 2019. She completed the requirements for International Master title by crossing the rating barrier of 2400 for the first time in October 2018 FIDE Rating List.
She was conferred with Shiv Chhatrapati Award in 2015. Soumya achieved her WGM title in 2008. One can only imagine that her dream of achieving a GM title is nothing but an inevitability.
Tania Sachdev
Name: Tania Sachdev (IM)
Born: August 20, 1986, Delhi, India
FIDE Rating: 2400
India Rank: 4
Tania Sachdev is probably the most recognizable face in Indian chess after Vishy Anand. Success came quickly for Tania as she won the Bronze medal in the World U-12 Girls Championship and later won the Asian Girls U-20 Championship in 2002.
She was awarded the WGM title in the year 2005, following which, in the years 2006 and 2007, Tania won the National Women's A title. In the year 2008, she became an International Master. Tania won the Bronze medal on board three at the Istanbul Olympiad, 2012, with a score of 9.0/11.
She is the reigning Commonwealth Women's Champion 2018.
Tania is known worldwide for her commentating skills -- her lucid explanations striking a chord with the audiences. She has recorded two DVDs for ChessBase.
Eesha Karavade
Name: Eesha Karavade (IM)
Born: November 21, 1987, Pune, India
FIDE Rating: 2357
India Rank: 5
Eesha Karavade became Pune's first WGM in 2005. She became an International Master in the year 2010 when she also made her first appearance for India at the Women's Olympiad. She has since then been a part of the 2012 and 2014 Olympiad teams as well. She was a part of the team that achieved the fourth position in the Istanbul Olympiad, 2012.
In 2011, she won the Gold medal in the Women's section at the Commonwealth Chess Championship, 2011, held in South Africa. She is the strongest female chess player from the state of Maharashtra and well known in the chess circles for her excellent opening preparation.
Padmini Rout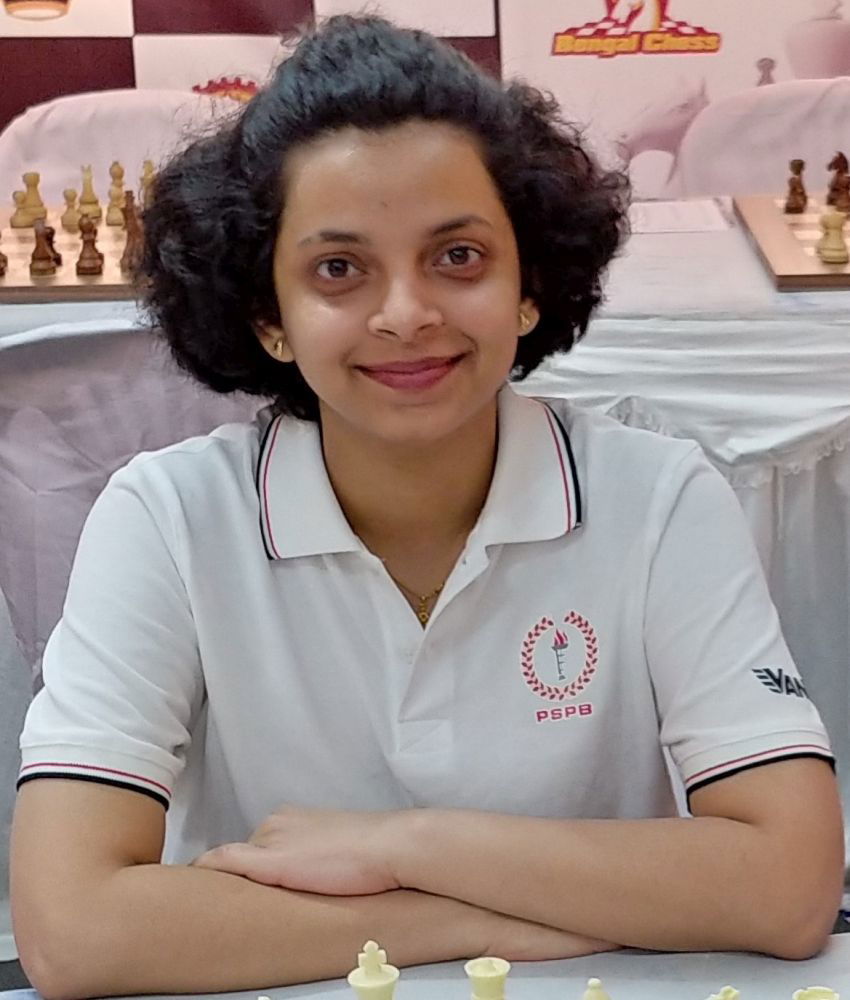 Name: Padmini Rout (IM)
Born: January 5, 1994, Bhubaneshwar, Orissa
FIDE Rating: 2332
India rank: 8
Padmini Rout learnt the rules of the game when she was nine, due to her father's passion for the game.
She won her first National in 2005 in under-11 girls, Asian Youth Girls Champion in 2006 and 2008, the National U-13 Girls Chess Champion in 2006, Gold in World U-14 Girls in 2008, Asian Junior Girls Champion in 2009, National Junior Girls Champion in 2010, Bronze in the Asian Junior 2010 and in the World Junior Girls 2010, Gold medal in Commonwealth Women's in 2015, four times consecutive National Women's Premier Champion from 2014-17, Gold in Blitz, Silver in both Rapid and Classical in Asian Nations Cup 2014, Gold in Blitz, Silver in Rapid and Bronze in Classical format in Asian Nations Cup 2018, Bronze in Asian Continental Women's Blitz in 2017 and Asian Indoor Games in Rapid in 2017
She was awarded Biju Patnaik Sports Award for the year 2007 and she was the winner of Eklavya Award in 2009.
She is the current Asian Continental Women's Champion 2018 and also the only woman in Indian Chess to have ever won an individual Gold medal in Tromso Olympiad 2014.
She became a WGM in the year 2010 and International Master in 2015. She already has two GM norms and on her quest to become GM.